Bike Racks for Businesses
Are you a business that wants to be more bicycle friendly? The first step is to install secure bicycle parking facilities. This will encourage bicyclists to patronize your business, and make it more attractive to employees, residents and tourists. Businesses clustered in plazas may wish to install and share a rack among their patrons.
Bike Walk Glastonbury currently offers a $50 subsidy to businesses in Glastonbury who wish to purchase a bicycle rack for their customers and employees. Please contact us for more information.
This guide was written by Ron DeGray and Jeff Stein.
Bicycle parking installations should provide:
Security by locking both the frame and wheels
Good support of the bicycle
Ease of use
Durability
Visibility of site
Convenience to the destination
Compatibility with site conditions
Aesthetics
Types of bicycle rack
There are three general types of bicycle rack available.
Type I: Bicycle lockers. Bicycle lockers are generally rectangular boxes that completely enclose one or two bicycles. Bicycle lockers are most appropriate for employees or for people who cycle part of the way to work and transfer to public transportation for the remainder.
Type II: Lockable racks. Racks that lock the wheels and frame of the bicycle. The user supplies an appropriate lock.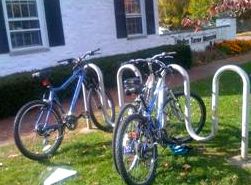 Type III. Stands. Stands and racks that may be hitching posts, rails or inverted U-shapes.
Further resources
The Association of Pedestrian and Bicycle Professionals sells a 2010 edition of their Bicycle Parking Guidelines for $45. You can download the first 2002 edition of the Bicycle Parking Guidelines for free from the APBP website.

---